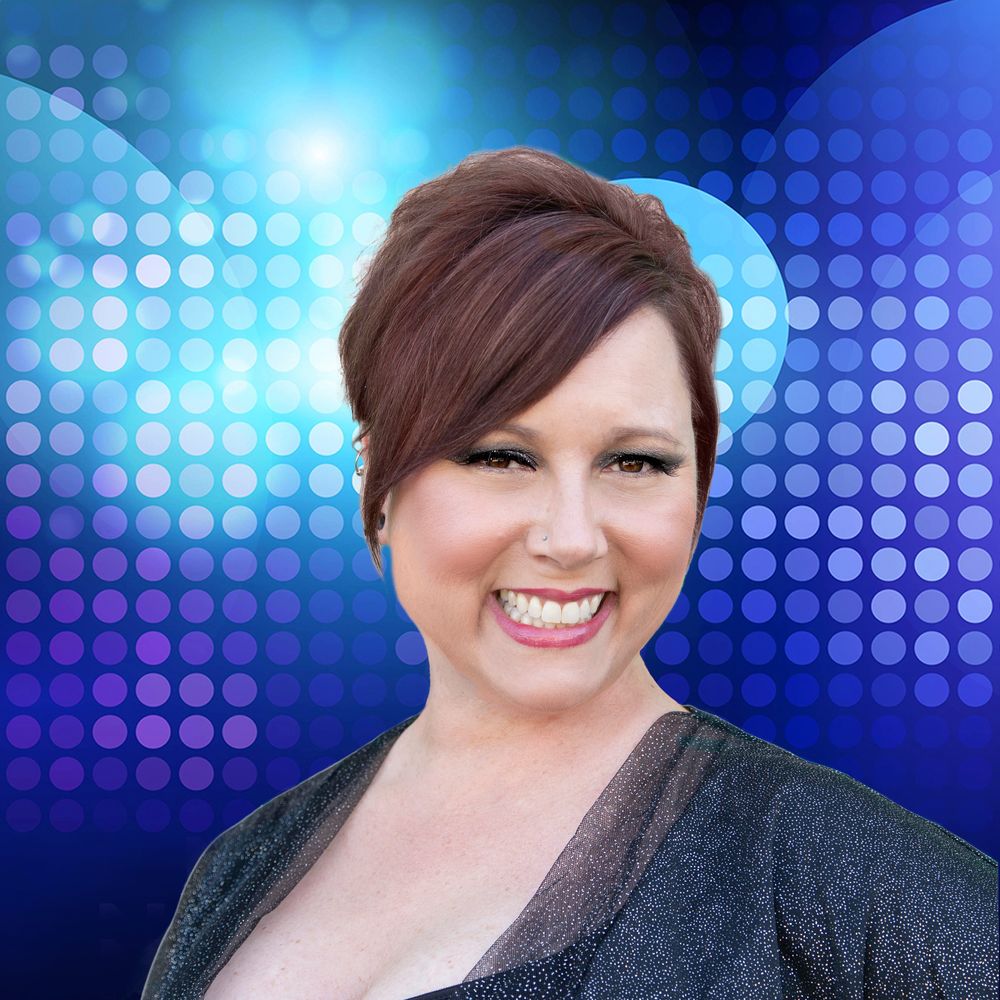 STACY K.
VOCALS
The year was 1979.

The little Lady Marmalade was in third grade as she sat in her bedroom listening to the record player spin her favorite 45's.
Knock on Wood rang out loudly as she sang the woooooo woo woo woo woo wooooo. Her long braids and dress Mom made showed she was a seventies child. She didn't know what Disco was let alone that it was a craze sweeping the dance floors of America. When Saturday Night Fever came out in the theaters a couple years before she had begged, "Please Mom, I want to see the Jungle Boogie tooooo!"
"No" was the answer because it was rated "R" and that meant no amount of begging would help her funky cause.
"I closed myself back in my room and bellowed out I Will Survive!"

Until the 80's rolled around...

That's when sweet and zesty grew into hot-n-spicy. She fell in love with Heavy Metal and all the rebellion it brought. The Dancing Queen hadn't started singing in bands yet but wanted to be a Rockstar!
Motley Crue, Ratt, Bon Jovi, Iron Maiden, Dokken and Metallica were now blasting from her room. Cassette tapes and a boom box replacing the 45's.

Upon graduation our Bad Girl began pursuing a music education degree. Surely all of those music classes would propel her to stardom.

She joined her first band, Sabadical, as lead singer. "I was in love again...with the stage. I never reached Shining Star status but I have had the privilege of jamming with and knowing some of the most talented musicians in NOVA."

Currently this hot momma is lead singer for 80s hard rock band, The All Stars, original/cover metal band, Isabella's Furnace 2.0, and now returning to her childhood fave with Groovalicious, the Ultimate Disco Revival.

"I'm blessed to be playing with these talented musicians and long time friends."
And we are super jazzed to groove with you too, baby!

Can't wait to Boogie Oogie Oogie with you!!!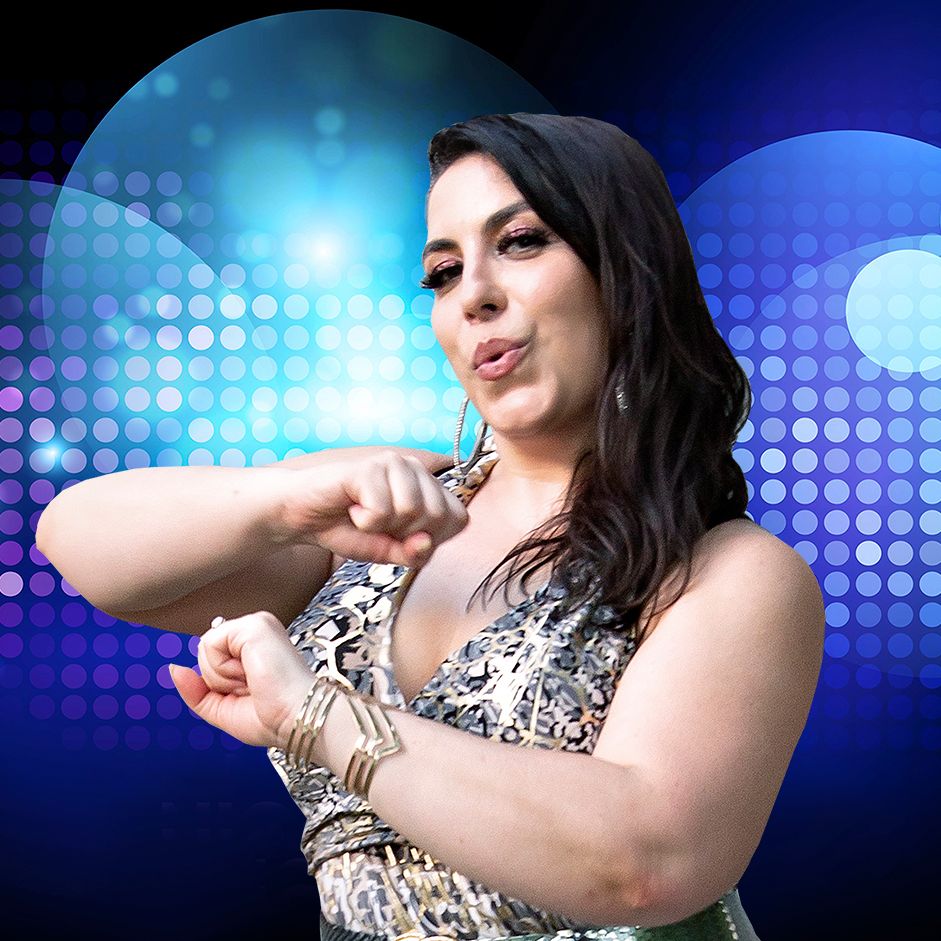 VICKY
VOCALS
The year was 1977.

Saturday Night Fever was born in Brooklyn and across the Verrazano Bridge in another borough Lady MarmaLaModica debuted into the world with The Hustle as her intro music.

She WAS indeed a showgirl... It all started when her Sicilian dad came to the states only to meet her Colombian mom at the famous NYC Copacabana nightclub. They were young and they had each other!
Who could ask for more?

As a young girl she would Shake her Groove Thing and Boogie Oogie Oogie while her mom vacuumed to the Disco Divas she now knows as her idols Donna Summer, Dianna Ross, Chaka Kahn and Gloria Gaynor!

Starting off her young musical life as a trumpet player she traded in her brass... for sultry sass! Once she saw the glittering lights of the disco ball, the Farrah hair flip and the power of platforms, hoops and a jumpsuit.... she was hooked. Which way to Studio 54?!

Vicky received a BFA in musical theater but always carried a torch for Blues, R&B, Rock and Disco. She has worked all over the country and hustled belting for the boys and the girls who love them right at home in the NYC nightlife and burlesque scene. Consistently lent her voice to The Stonewall Community Foundation's Swish Ally Fund as a proud ally for LGBTQ rights, Stronger Together to support the ACLU and City of Hope's: Broadway Blows Back at the Gershwin Theater. She even managed to survive The World Famous Amateur Night at the Apollo Theater TWICE.
Special skill include: 4+ octave range, dialects, sewing, trumpet, boxing, enough Spanish and Italian to get by, very good with children, great cook, and ventriloquist whistle!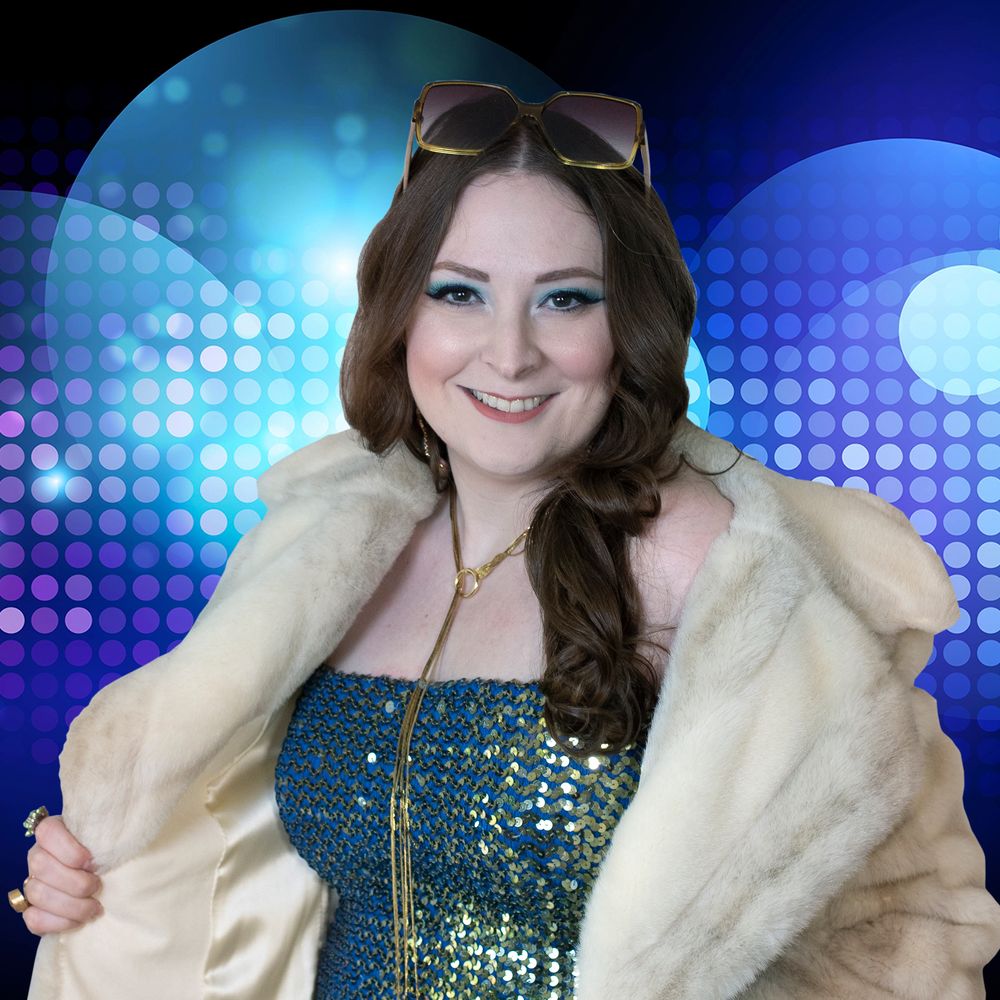 SIRENA
VocALS
The year was 1975.

The war in Lebanon had just begun. There were bombs overhead, but that didn't stop the Boogie of Lebanese people!

To escape the war, Sirena's parents emigrated from Lebanon to the United States, where Sirena was born. Her parents named her Sirena because they liked the way it sounded ... little did they know they would have a sassy singing siren on their hands!

A proud Lebanese living in America, Sirena grew up listening to Arabic, classical, and of course... that Groovy Disco! Sirena got her start in music as a child singing in choirs at school. Although she always had a passion for singing and dancing, it wasn't until junior year of high school when she truly found her love of musical theater!

Since then, she graduated from the University of South Carolina with a BA in International Studies and Theater. She came to Washington, DC as an intern and her passions led her to get a full-time job at the John F. Kennedy Center for the Arts where she has been working for 7 years. At the Kennedy Center, she has had the privilege of working with many different artists, from student performers, teaching artists, international groups, and even Kennedy Center Honorees (including Sirena's favorites... the members of Earth, Wind & Fire)! Ba-dee-ya!

As an actress and singer, she has performed in theater productions across the DMV including with the Little Theatre of Alexandria, The Arlington Players, Rockville Musical Theatre, The British Players and Hexagon. Her favorite roles over the years have included Princess Fiona in Shrek the Musical, Ulla from the Producers, Cinderella in Rodgers & Hammerstein's Cinderella, Lori in Swing Time in the Musical, Ado Annie in Oklahoma, Alais in The Lion in Winter, Lydia Bennett in Pride and Prejudice to name a few.

In addition to performing with Groovalicious, she has performed as a vocalist with 24k Event Band, Outstanding Voices of DC, and independently at venues across the DMV including the Cosmos Club, Shaw's Tavern, Mr. Henry's & more! Although Sirena started in musical theater, she also loves performing jazz (à la her idol Ella), classic rock, disco, and so much more!

In her free time, she enjoys swing dancing, vintage fashion, and thrifting. Big thanks to her (also performer) husband, Chad, who she met at a piano bar in DC.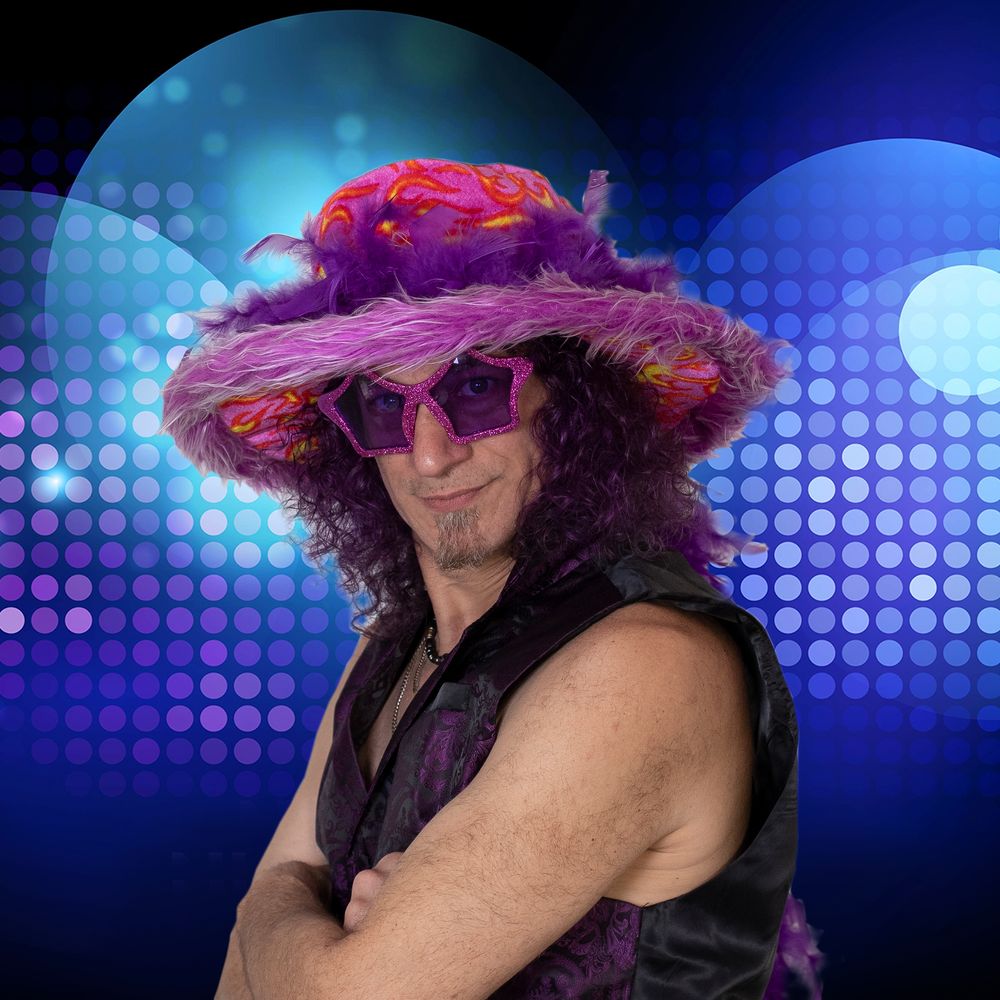 SPLEEF
Bass Guitar
How it all started!

The year was 1977.

The Sear's Toughskin jean jacket was brown and the record patch on the back read "disco kid"! The boy was just eleven years old but he already had the boogie in his soul. Unfortunately, he also had two left feet and spent most of the nights at the Rec center community dance standing in the corner next to the big speaker with the bass thumping in his head.

Fast forward to 1980 and high school.

We are on the cusp of 80's hair metal and "my friends ask if I want to start a band". They need a bass player. What? Are you kidding? A chance for his fingers to get out the groove that his feet could not!

The Disco Kid jacket was replaced with a "Death before Disco" t shirt. Proudly displaying a skull pierced by a dagger and a snake crawling through the eye sockets. The hypocrisy was brazen but he was not to be deterred not even by the ridicule of his friend Mike Braxton. "Sharifi bung! Yo grandma!" ?

Satin gave way to leather. Bellbottoms became spandex and platforms descended to capezios. The wristbands could not have enough spikes nor could the hair.

Through decades of rocking every stage imaginable on the east coast with great bands like Fever, MisFit, Cyclone Ranger, Bonedance, Punchbuggy, Hot Buttered Elvis and Soul Kitty 6, there was always that burning ember of desire to get the funk out.

Fast forward to 2017.

Here Come the Mummies are kicking out a crushing set of their own disco/funk/soul. The joint is jumpin! Everyone is smilin! Booties are shakin! A good time is had by all, baby! These mutha funkas are groovy!

And the inspiration was born. A call went out. The response was Super Freaky! The Disco Inferno was aflame in the hearts of the masses!

Thus Groovalicious was born! A tribute to all things disco. The music. The glitter.
The boogie, baby!

And we have this man to thank. Or blame?

Shahin Sharifi

But we just call him Spleef!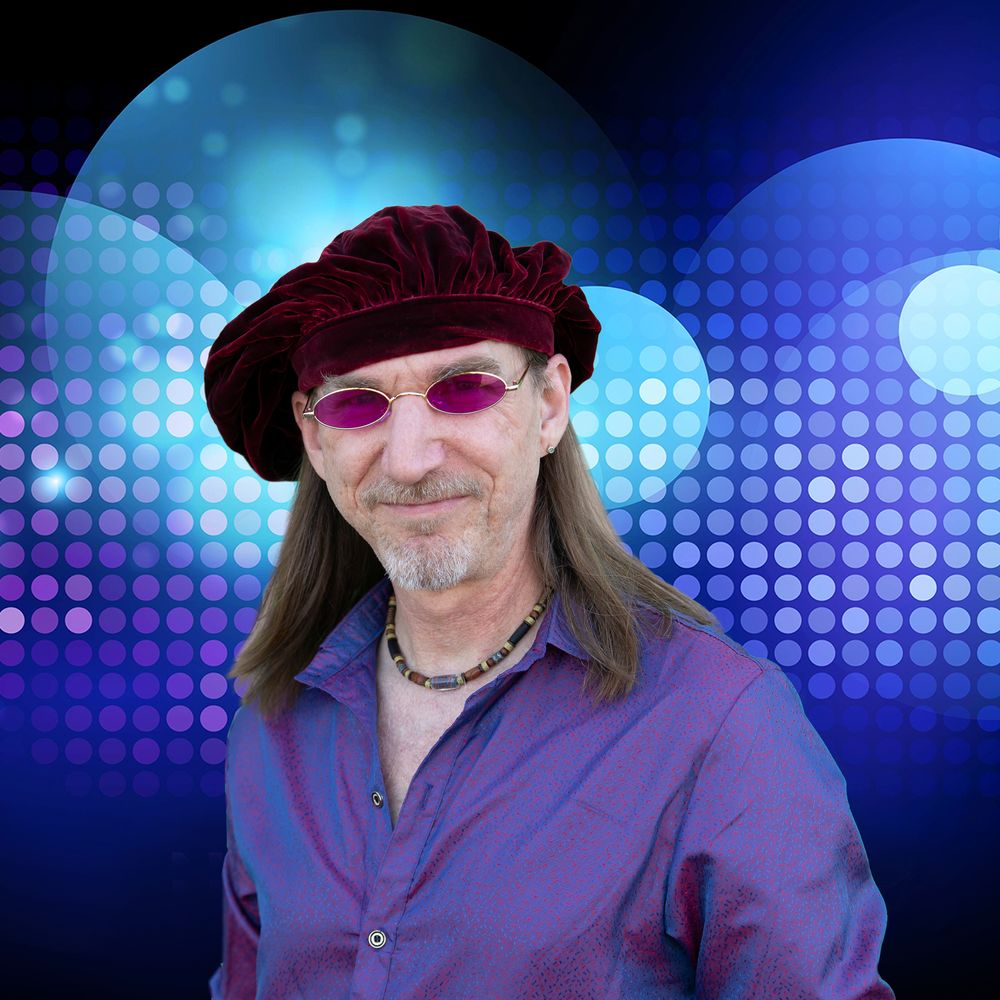 Scott
Guitar
The year was 1984.

The Scatt youth had been in bands after high school but it wasn't until that year he became the Scatt man playing professionally with the NVCC Jazz Ensemble and in 1985 joined the Northern Va based big band Kaleidoscope.

As a Scatt child he started playing saxophone. After four years of "Toot, Tootin and Beep, Beepin" he decided to Knock on Wood instead and switched to guitar at the age of thirteen. He studied with a variety of cool cats through high school and in college grooved to classical, jazz, ensemble and music theory.

Scatt boss was the Shining Star as bandleader when he formed a jazz trio in 1991 which went on to do the Hustle in a variety of Brick House venues for thirteen years.

The now Scatt guru began freelancing as a sideman/solo guitarist and has accompanied the likes of Al Wilson, Show And Tell, Pat Upton, More Today Than Yesterday and an array of others covering many styles including pop, rock, soul, r&b, blues, funk, jazz, reggae, and much more.

Scatt mentor still Keeps it Comin Love. Teaching privately, performing in several bands, doing studio session work, freelancing and most recently partaking in the recording of the soundtrack for a feature film.

"A guitarist known for his virtuosity, versatility, and reliability."

To us he is the Scatt master!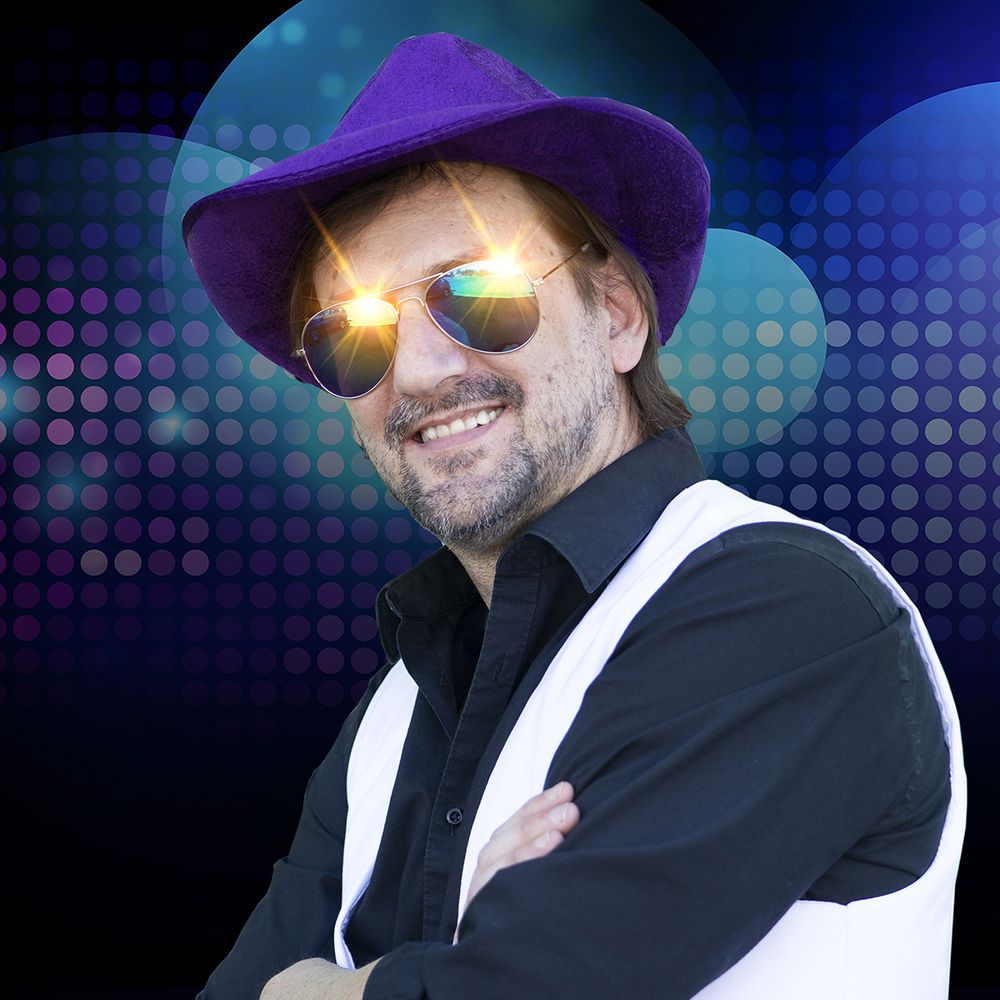 DAVE
Drums
The year was 1986.

A fresh faced teen has set up his first drum-set inside the small closet of his room. The sounds of Led Zeppelin, The Police, Pink Floyd and various other bands Got the Best of his Love as the young lad feverishly attempted to play along.

Dave has played drums for many years, in many different genres. He credits his diversity to being open-minded and his willingness to Get Up and Boogie to all the elements that have shaped drumming since December '63… Oh What a Night!

I got into drumming because I was Made for Lovin the sounds they produced and I always felt like the drums were the Hot Stuff of most songs. I loved guys growing up like John Bonham… Neil Peart… Buddy rich... Bill Ward. Overtime those tastes evolved into other players and styles

He has played in multiple bands such as: Vast Minority, Storm Season, The Gypsy Sons, Confluence, I.S.O, Soft Gamma Repeater, and More, more, more.

Dave has also worked on various studio recording projects with multiple artists as a session player and as an audio engineer/producer. For 10 years until the Last Dance he owned and operated a music studio in Sterling, Va where Groovalicious recorded their demos.

Dave's winning personality and helpful nature made him a natural to join our funky tribe and now We Are Family!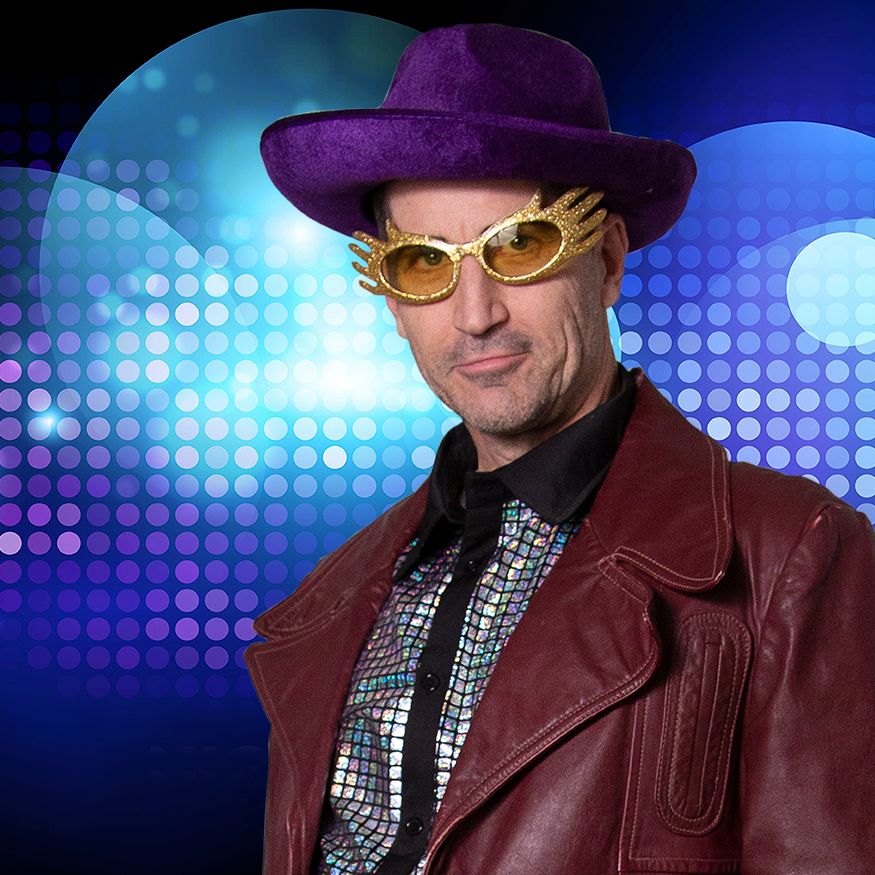 JIMMY G.
Keyboards/Vocals
The year was 1980.

The crowd roared at the early showing of "Airplane" when the low flying plane took out a radio station promising

"All Disco, All the Time."
In the middle of all the Celebration,
Young Jimmy sat at the back of the
Brickhouse.

At first he was afraid, he was petrified
Kept thinking he could never live without disco by his side
And then he spent so many nights thinking how they did him wrong
And he grew strong
And learned how to get along

For the next 40 years he squandered his considerable talents playing indie rock, "Americana" (whatever that is), and pop.

But do you think he'd crumble?
Do you think he'd lay down and die?
"Oh no not I." He cried. "I Will Survive. As long as I know how to Groove, I know I'm Stayin Alive!"

He saw the ad looking for a keyboard player asking the question:
"Are you Groovy?"

Yes! Yes he is!!

And now that Freaked Out 10 year old boy inside can finally relax and be a Macho Man!

Jimmy Gage